Once you have created a Cadimage Cabinet, you can modify its Display Options via the menu on the left side of the Settings Dialogue (see image below).
In this area you can modify:
---
Here you can choose to set the Model Properties as: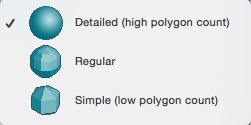 and the Plan View Symbol as:
Both of these options allow you to control the performance of the model. High resolution cabinets look the best – but may be difficult for your computer to work with if you have a number of them. By decreasing the resolution you will improve the performance of the 3D Window as well as 3D generated views such as sections or elevations.
In a similar way, if you have large numbers of cabinets on plan, a 'Projection' will have slower performance than a symbol based view. This is because the projection needs to generate the 3D view in order to display the plan view symbol. The symbol on the other hand uses a script to show a symbolic view of the cabinet.
---
This setting controls whether you will see the shelf outlines on the surface of your cabinet:
You can either choose to have the Shelf Outlines on Model Surface 'On' or 'Off' and you can set the Dash Length.
TIP: As the Dash Length is drawn by the object and not placed as a 'dashed line', you may need to check your sections and interior elevations to make sure these are correct for the scale you are working with.
---
Here you can set a Plan View Label:
In this area you can add content for Full Label Text and Short Label Text, and whether the label rotates with the cabinet or not.
TIP: The Floor Plan display is controlled through Model View Options for Cadimage Cabinets. The data can also be used for scheduling purposes.