You can adjust the 'Panel Layouts' for Garage Doors created with the Cadimage Door+Window Tool via the Door Leaf menu option.
In the example below we take you through the steps of changing the Panel Layout of a door with a Tilt panel type.
To modify the Panel Layout:
1. Select an existing Garage Door or create a new one
2. Choose Door Leaf from the options on the left (shown below):
You may notice the option to Use a Custom Door Leaf, which is saved in the loaded ARCHICAD Libraries.
3. You can choose the Glazing Panel Type from the Glazing Panels drop down on the right hand side:
This is where we determine the vertical position and number of the Glazing Panels.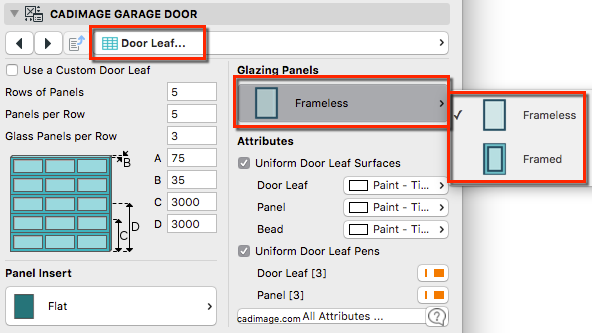 4. Go to the Panel Inserts sub menu:
TIP: Further options to control the Frame, Glass, Exterior Trims and Attributes are also available and controlled in the same way as with regular Cadimage Doors.
12. Click OK to exit the dialogue
A rendered example of the Garage Door is shown below: