1. Select an existing door or open the Door Tool from the toolbox to create a new door.
If creating a new door, select the Cadimage Door inside Cadimage Library 20 folder
2. Go to Hardware to select the handle and plate types for Exterior and Interior sides of the door.
3. You can define which door Leaves should have handles added to by ticking the appropriate boxes under Placement.
3. Click on the ... button to edit Interior and Exterior Handle and Plate dimensions.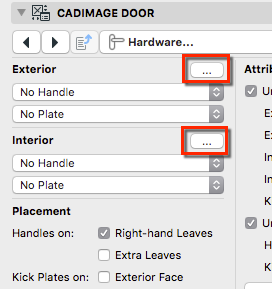 4. This is the Exterior Handles page.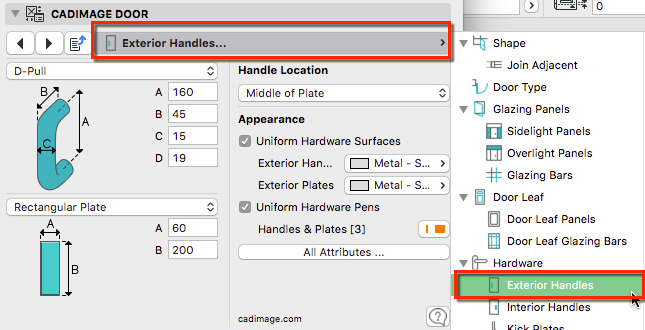 5. Click on the Handle fly-out button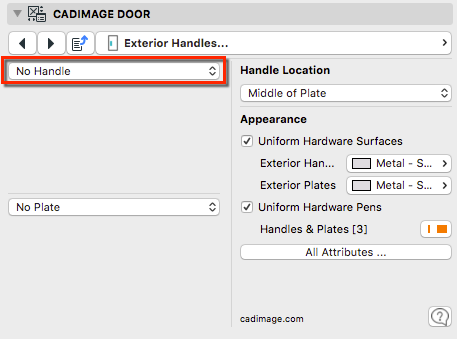 6. You can choose a Handle from the Handle Type drop-down:
7. Modify the dimensions of the handle if desired
8. Click on the Plate Type drop-down button to choose a plate type:
Adjust dimension if necessary
 9. Click on 'Handle Location' drop-down to choose between Middle, Top or Bottom:
The Interior Handles options work in exactly the same way as Exterior Handles with options to choose the Handle, the Plate and then set the Location.
The option to Place Handles on Right-hand Leaves is important when working with Double Doors. By default, whenever we design a Cadimage Door, we work with the Left-hand leaf. When working with Double Doors, the handles can be placed on only the Left-leaf or Left- and Right-leaf (by ticking this option).
When working with multi-leaf Doors, you also have the option to tick the box Handles on Extra Leaves.
The final option we can look at is the Kick Plates. In Dimensions you can set the height, offset from edges and thickness of the Plate:
On this page you can set the Kick Plates to be placed on Exterior Face, Interior Face or both:
10. Click OK to apply the settings to an existing door or place a anew door.