In this article we show you how to create a Keynote.
You will notice that we have set up Categories (such as General and Site); as well as Sub-Categories (such as Concrete, Masonry and Timber), which have provided a structured order around our Keynotes. Setting up Categories will help manage your notes; however you do not have to do this in order to create your Keynotes.
Read more about setting up and managing Keynote Categories 
---
1. Open the Keynote Palette by going to Cadimage> Keynotes> Keynotes Palette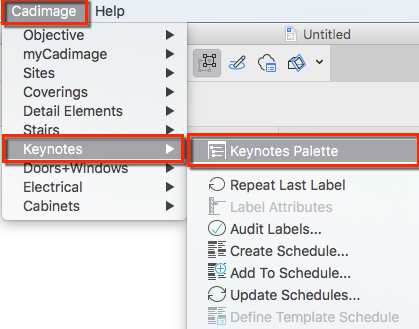 2. In the Database (top) area of the Palette, click above the point at which you want to add the new Keynote (in this example we will click on the 3.03 Timber Sub-Category in order to get the Keynote to appear just below this item).
Tip: If the Keynote is not added where you want, or if you want to move it later, you can always click and drag it into a new location.
3. Click the A button to add a new Note. Under Keynote Editing, you will be able to add extra information to this note. Including a Tittle, Spec Reference and Description.
TIP:
The Description is where the detailed information relating to the keynote is added.
The Specification Reference is a reference to an external / separate Specification Document and can be an ID, produce code or page reference.
Using these parameters, our Keynotes List looks like this: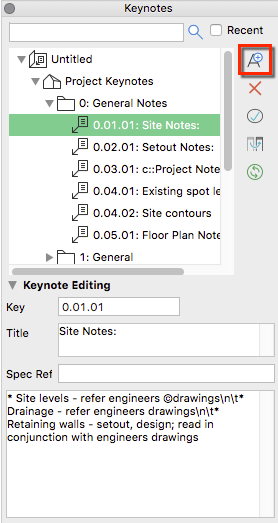 4. You won't need to close your palette for the note to be added. It is added when you click the A button.