The Cadimage Objective Tool comes with a Library of parametric Objects that can be used when creating architectural models. The Library is split in to two sections: one for Steel Elements and one for Timber Elements.
To view the Objective Library:
1. Double click on the Object Tool in the Toolbox to open the settings dialog:
2. You Will find the Objective Library under ARCHICAD Library 20>Cadimage Library 20 (as shown below):
Steel Library Components
These can be seen by clicking on the Steel Library (see image below):
---
Timber Library Objects
These can be seen by clicking on the Timber folder below: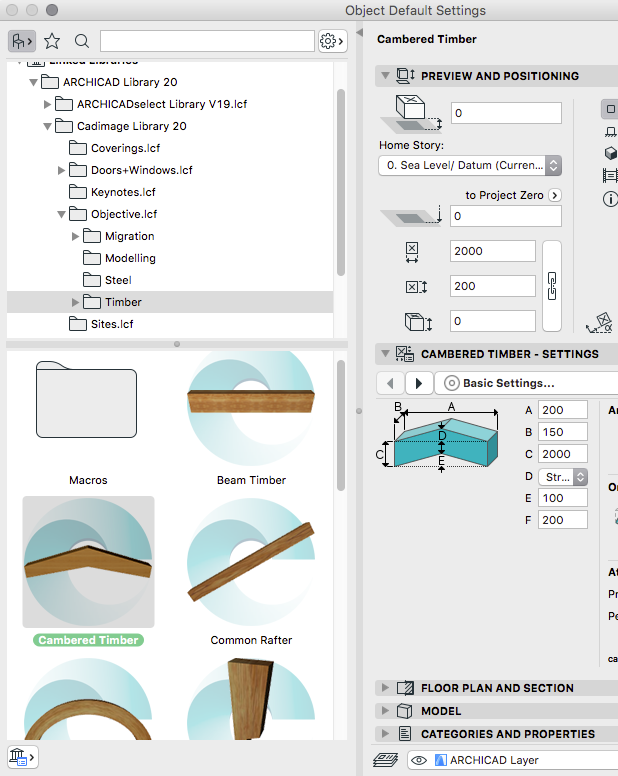 If you look at the Timber Library you will see it contains many more traditional timber framing elements than the standard ARCHICAD Library.
It is important to note that these objects are standard GDL and do not require the add-on to be present for 2D or 3D visualisation. They can also be edited without the add-on, but some of the smart features like automatic hotspot generation will not be available. This means you can safely archive or distribute your projects without fear of data loss.
The Framing Settings dialog works in exactly the same way as the standard Object Settings dialog, with the exception that only Objective objects are displayed.